Charlie Hearnshaw band offers swinging jazz & latin. They also have a substantial French repertoire.
The band features Charlie on clarinet & sax and, if requested, on piano too.
The core of the band is a duo of clarinet & guitar to which they can add other musicians including bass, drums, congas/percussion.
Repertoire, in a nutshell, is jazz, swing, latin & French chansons.
They also play arrangements of classical pieces and pop songs, mostly for weddings.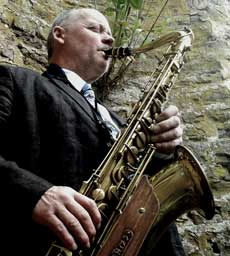 Charlie on tenor sax. He also plays alto ,
soprano and various clarinets.
Below are some tracks from a live album
by the Latin Jazz Quintet
Weddings
For your wedding ceremony and for drinks & photos afterwards we recommend our duo or trio. Have a look at our weddings pages.
Munjenta Café Latin Jazz Quintet , playing dancy latin jazz and swing, would be our initial recommendation for the evening of your wedding: after speeches and before the disco starts.