Charlie Hearnshaw band offers swinging jazz & latin.
They also have a substantial French repertoire.
The band features Charlie on clarinets & sax.
The core of the band is a duo of clarinet/sax & guitar to which they can add other musicians.
duo
clarinet/sax,
guitar/vocals
trio
add bass
quartet
add drums
quintet
add congas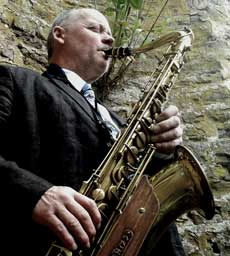 Charlie on tenor sax. He also plays alto ,
soprano and various clarinets.
Below are some tracks from a live album
by the Latin Jazz Quintet
Advice on booking Charlie's jazz band.
If you think you would like live music at your event but are not sure how many musicians to book or what style of jazz to have, give Charlie a ring or send him an email and tell him what you have in mind. He will be happy to offer advice but won't try to do a hard sell. Au contraire, if he feels that his band is not right for your event he will not accept the booking.
Weddings
For your wedding ceremony and for drinks and photos afterwards we offer a duo or trio. We can usually play the music of your choice, classical, jazz, pop, rock or whatever, to walk down the aisle to.
For the evening of your wedding we propose our Munjenta Café Latin Jazz Quintet, which can play chilled and in the background or upfront and dancy and usually plays both as the evening progresses.
Piano Trio
Charlie now has a high-quality portable electric piano and can now offer himself on piano playing with a
trio: piano, double bass and either guitar/vocals or drums(or both - quartet)
duo with double bass and piano
solo cocktail piano as background music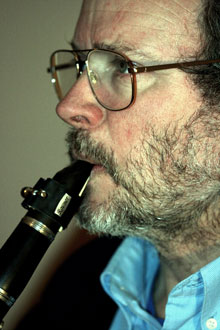 Charlie's band matches the acoustic
volume of his unamplified clarinet.

Themed Evenings.
We have organised some of our repertoire into special sets, such as New Orleans & Trad Jazz for example or Max's French Cafe Music, the idea being that restaurants who book the band can devise a themed menu to go with it. The themed sets can also work well for private parties.How loud is the band?

Charlie usually plays his sax and clarinets acoustically, i.e. no microphone and his band play at low volume to suit.

The singer has a mic of course so we bring our PA. You may of course opt for an entirely instrumental program with no singing.

The bass and guitar use amps, so we are not usually entirely acoustic, although we can be entirely acoustic if there is no electricity available.

If we are playing for a function (wedding, party etc) we like guests to be able to chat comfortably while the band is playing. If we are giving a concert people will be listening so we do not need to play loud.