Projet Brassens' concert set "An Introduction To Georges Brassens" targets English-speaking audiences. Maxine discusses the songs in English before singing them in French,
As well as playing all over England and appearing on British radio and TV, Projet Brassens has been very well received at French and Belgian festivals.
Duo, trio or quartet
The band have released three internationally acclaimed CDs of the music of Georges Brassens.
La marine
Songs of Georges Brassens in French
Le vent
Songs of Georges Brassens in French
Brassens à la clarinette
Jazzy instrumental versions of most of the songs on
the other two CDs
More about the CDs... (link to the Projet Brassens shop)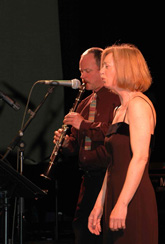 Vaison-la-Romaine, 2007